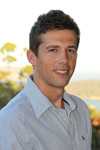 Professor of Animal Reproduction
Research interests:
Semen preservation
Artificial insemination and embryo transfer
Production of pre-sexed offspring by flow cytometric sex-sorting
Interaction of sperm, seminal plasma and the female reproductive tract
Current research projects:
Semen preservation, artificial insemination and embryo transfer in sheep
Sensing technologies to reduce reproductive wastage of sheep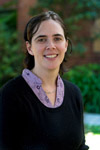 Associate Professor of Animal Reproduction
Research interests:
Semen and embryo preservation
Artificial insemination and embryo transfer
In vitro fertilisation and embryo culture
Reproductive endocrinology
Current research projects:
Precision monitoring of reproductive state via development of pen side mucus testing and continuous remote monitoring in pigs

Associate Professor of Reproductive Biology
Research interests:
Understanding the acquisition of mammalian oocyte quality
In vitro production of embryos from oocytes of juvenile animals
Seasonal infertility in the pig
Marker assisted selection in breeding systems
Current research projects:
In vitro embryo production in pigs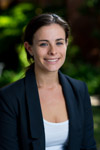 McCaughey Senior Research Fellow
Research interests:
Production of pre-sexed offspring by flow cytometric sex-sorting
Improving reproductive technologies available to the animal industries
Physiological role of proteins on the sperm surface
Current research projects:
Jessica is part of the team working on semen preservation, artificial insemination and embryo transfer in sheep. The aim of her project is to tailor commercial methods of sperm sorting by flow cytometry to produce 'sexed ram semen' and make this technology available to the Australian sheep industry.

Dr Supatcharee Arun
Postdoctoral Researcher
Research interests:
Reproductive biology and biomedicine
Effect of stress and chemical on epididymal functions
Roles of tyrosine phosphorylation in the reproductive system
Effects of medicinal plants on reproductive toxicology
Current research projects:
Supatcharee's research project characterises and compares the epididymal proteins of rats treated with valproic acid. Protein changes may be used as diagnostic predictors of sperm function and infertility in male epileptic patients.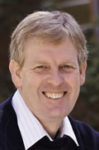 Emeritus Professor of Animal Reproduction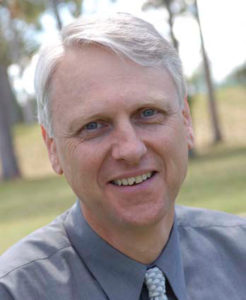 Emeritus Professor of Reproductive Biology
---
Professional Staff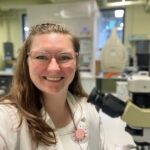 Caitlin Chambers (Research Officer and Laboratory Manager)
Previously studied in the PRC for Reproductive Science and PRC for Drug Development at the University of Newcastle and graduated with a PhD (Biological Sciences) in 2020. She has extensive technical expertise and experience in assessment and processing of semen from a variety of species, in addition to an interest and knowledge of various molecular assays for advanced assessments. As research assistant and laboratory manager Caitlin demonstrates valuable time and resource management, communication, and organisation with an eagerness to develop new skills and knowledge.
Cameron Sharpe (Farm manager Animal Reproduction Unit, Cobbitty)
Comprehensive experience of domestic animal husbandry and management for natural and artificial breeding programmes.
---
Current research students
Emmah Tumeth
PhD Student
Emmah's research explores how precision livestock management technologies could be implemented in the sheep meat and wool industries to increase the reproductive efficiency of flocks across Australia. Her work focuses on the development of an on-animal sensor that will combine accelerometer, Bluetooth and GNSS data with supervised machine learning algorithms to generate real-time alerts of mating and lambing events. The automated detection of such events would facilitate improvements to oestrus synchronisation and artificial insemination protocols, a reduction in perinatal mortalities and the identification of sub-productive individuals.

Eloise Spanner
PhD Student
Eloise's PhD is an industry project working alongside the Australian Merino Sire Evaluation Project (AMSEA) to investigate the effect of male, female, and environmental factors on the variability of successful artificial insemination (AI) programs within the Australian merino industry. The lack of industry standards to determine the fertility of a given ram and ewe has driven her interest in the advancements and utilisation of fertility prediction procedures and methodology. Her work includes using advanced semen assessments, flow cytometry, DNA staining, western blots, proteomics, and transcriptomics of frozen-thawed ram semen. If successful, the project will recommend strategies to improve the likelihood of AI programs. Therefore, this project aims to increase the number of lambs born to elite flocks and accelerate genetic progress for the Australian sheep industry.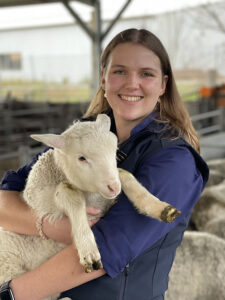 Katherine Seymour
PhD Student
Katherine's research is investigating how microfluidics and optical trapping can be used to manipulate, assess, and sort ram sperm. Interested in combining technology and agriculture, Katherine's project aims to simplify and miniaturize complex reproductive technologies to make advanced semen assessment more accessible for producers. As assisted reproductive technologies become more commonplace in Australian agriculture, particularly in sheep production, the availability of advanced semen assessment tools is becoming increasingly critical. Selecting and enriching for high quality sperm would boost the success rate of artificial breeding programs and maximize reproductive efficiency on farm while minimizing the economic loss of unsuccessful inseminations.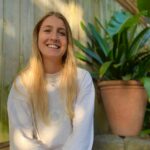 Madeleine Van De Hoek
PhD Student
Madeleine's research aims to identify the factors within seminal plasma that modulate the metabolic pathways and motion characteristics of ram sperm. Her work seeks to improve methods of ram semen storage and prolong maintenance of in vivo fertilising capacity.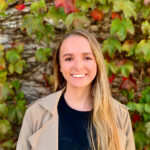 Sophie Warr
PhD Student
Sophie's PhD aims to identify molecular markers which may facilitate successful sperm transit through the cervix of the ewe. Her work includes molecular characterisation of different sperm phenotypes using 'omic technologies and novel in vitro models to identify sperm-cervix interactions, including immune and biochemical responses. Ultimately, this research seeks to restore the ability of frozen-thawed semen to penetrate the cervix and achieve acceptable pregnancy rates following cervical artificial insemination.
Alexandra Walls
PhD Student
Coming soon
---
Past students
Higher Degree by Research
Danielle Glencorse PhD (graduated 2021)
Cameron Negus PhD (graduated 2021)
Kelsey Pool PhD (graduated 2020)
Alicia Steel PhD (graduated 2020)
Naomi Bernecic PhD (graduated 2019)
Samir Al-Bulushi PhD (graduated 2019)
Taylor Pini PhD (graduated 2018)
Jessie Maddison PhD (graduated 2017)
Cassandra Stuart PhD (graduated 2016)
Louise Bartolac PhD (graduated 2016)
Danielle Johinke PhD (graduated 2015)
Jessica Rickard PhD (graduated 2015)
Zamira Gibb PhD (graduated 2013)
Jenna Lowe PhD (graduated 2015)
Timothy Portas MVSc (graduated 2012)
Kiri Beilby PhD (graduated 2010)
Michael Bertoldo PhD (graduated 2010)
Tamara Leahy PhD (graduated 2010)
Shelley Underwood PhD (graduated 2009)
Undergraduate honours
2022
Theresa-Fina Barker BAnVetBioSc(Hons)
Madeleine Van de Hoek BAnVetBioSc(Hons)
Sophie Warr BAnVetBioSc(Hons)
2021
Jock Capel BScAgr(Hons)
Madison Golledge BAnVetBioSc(Hons)
Katherine Seymour BAnVetBioSc(Hons)
Eloise Spanner BAnVetBioSc(Hons)
Trinity White BAnVetBioSc(Hons)
2020
Melissa Annetts BScAgr(Hons)
Taylor Cole BAnVetBioSc(Hons)
Charlotte Edwards BAnVetBioSc(Hons)
Rachel Ku BAnVetBioSc(Hons)
Amy Phillips BAnVetBioSc(Hons)
Sumana Singareddy BAnVetBioSc(Hons)
2019
Teigan Farrar BAnVetBioSc(Hons)
Bianca Haase BAnVetBioSc(Hons)
Alexandra Hunter BAnVetBioSc(Hons)
2018
Madeleine Close BAnVetBioSc(Hons)
Kareena Evans BAnVetBioSc(Hons)
Christine Green BAnVetBioSc(Hons)
Molly Greentree BAnVetBioSc(Hons)
Natalie Rizkallah BAnVetBioSc(Hons)
2017
Bethan Arthur BAnVetBioSc(Hons)
Philippa Bruce BAnVetBioSc(Hons)
Nicola Culey BAnVetBioSc(Hons)
Kiri Farmer BAnVetBioSc(Hons and Medal)
Max Lloyd BAnVetBioSc(Hons)
Emily Underwood BAnVetBioSc(Hons)
2016
Charley-Lea Pollard BAnVetBioSc(Hons)
Gabrielle Ryan BAnVetBioSc(Hons and Medal)
2015
Emmah Tumeth BAnVetBioSc(Hons)
Annabel Tym BVSc(Hons)
2014
Melissa Caruso BAnVetBioSc(Hons)
Naomi Bernicic BAnVetBioSc(Hons)
2013
Joanna Aitken BVSc(Hons)
Dannielle Glencourse BAnVetBioSc(Hons)
Aaron Jin BAnVetBioSc(Hons)
Emily Knight BAnVetBioSc(Hons)
Ethan Mooney BAnVetBioSc(Hons)
Cameron Negus BAnVetBioSc(Hons)
Taylor Pini BAnVetBioSc(Hons)
2012
Elizabeth Barter BVSc(Hons)
Jessica Craig BAnVetBioSc(Hons)
Michelle De Martin BAnVetBioSc(Hons)
Sally Hall BAnVetBioSc(Hons)
Jessie Maddison BAnVetBioSc(Hons)
Paola Rosales BAnVetBioSc(Hons)
Rose Schmidt BAnVetBioSc(Hons)
Alicia Steel BAnVetBioSc(Hons)
2011
Natasha Tarapor BAnVetBioSc(Hons)
Felicia Li BScVet
Alyssa Dickinson BAnVetBioSc(Hons)
Natalie Hackl BAnVetBioSc(Hons)
2010
Jenna Lowe BAnVetBioSc(Hons)
Jessica Rickard BAnVetBioSc(Hons)
Rachel Rodney BAnVetBioSc(Hons)
Teigan Sellens BAnVetBioSc(Hons)
Naomi Williams BAnVetBioSc(Hons)
2009
Mohammad Bahrini BAnVetBioSc(Hons)
Tess Harris BAnVetBioSc(Hons)
Kellie Masters BAnVetBioSc(Hons)
Luke Micallef BScAgr(Hons)
Cassandra Stuart BAnVetBioSc(Hons)
Kristen Yeung BAnVetBioSc(Hons)
Sheridan Young BAnVetBioSc(Hons)
2008
Tamara Butler BVSc(Hons)
Nicole Mace BAnVetBioSc(Hons)
2007
Tamara Butler BScVet
Kylie Dunn BAnVetBioSc(Hons)