Semen preservation, artificial insemination and embryo transfer in sheep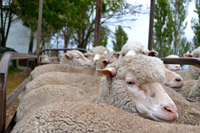 The group is responsible for the development and application of most artificial breeding techniques currently employed in the Australian sheep industry. Technology transfer is continuing through undergraduate/postgraduate teaching and industry training.
Current work focuses on utilising state-of-the-art proteomic techniques and novel in vivo cell imaging systems to investigate the interaction between ram spermatozoa, seminal plasma and the ewe's reproductive tract. The goal of this research is to improve the fertility of frozen-thawed ram semen delivered by AI, with particular emphasis placed on improving the transit of frozen-thawed spermatozoa through the female genital tract.
In vitro embryo production in pigs
Research includes the development in pigs of techniques for in vitro maturation and fertilisation (IVM/IVF) of oocytes and in vitro culture of pre-implantation embryos. These studies are fundamental in nature and examine the requirements for maturation and fertilisation of oocytes and viable growth of embryos. Research also focuses on development of improved storage methods for porcine embryos such as vitrification.
Sensing technologies to reduce reproductive wastage of sheep
This project will develop on animal 'Smart Tag' sensors to remotely monitor and diagnose reproductive events of individual sheep in a flock. Machine-learning will identify mating events from accelerometer, proximity & GNSS data. This in turn will enable identification of ewes in oestrus, the date they conceive and reveal the identity of the sires who served them: a total reproductive fingerprint & history of each animal. As a result, differential management of pregnant ewes can be made immediately post-joining and fetal age (and thus lambing groups) accurately identified without pregnancy scanning. This system also provides a simple means of remotely identifying the libido and serving capacity of rams.
This project is funded by Australian Wool Innovation.
Precision monitoring of reproductive state via development of pen side mucus testing and continuous remote monitoring in pigs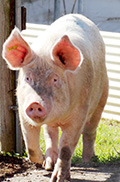 Detecting sow reproductive state more efficiently and effectively is a current priority for the pig industry. This project will investigate real time markers of the reproductive state of sows and gilts, specifically looking to identify oestrus and ovulation, pregnancy earlier than 28-days post-insemination and to predict the onset of parturition. The major focus of these three arms will be characterising changes in cervical mucus throughout the reproductive stages. Detecting changes in cervical mucus will lead to the development of accurate real-time, pen-side tests that are non-invasive and easy to use, so transforming the way pigs are managed.
This project is a partnership with South Australian Research and Development Institute (SARDI) and SunPork Solutions
Validating methods of in vitro semen analysis
Animal and human artificial breeding and IVF centres rely on semen analysis to determine the fertilising potential of males. Throughout these industries, there are no strict guidelines as to the in vitro handling methods for these procedures, leading to the question of whether different in vitro conditions influence the outcomes of semen analyses and ultimately if this impacts upon clinical decision making. Consequently, this project aims to quantify the differences in semen analysis results when semen is exposed to a variety of different in vitro handling techniques.
Prediction of artificial insemination success in sheep
This project will comprehensively analyse the impact of both male and female factors on the success of artificial insemination programs in the sheep industry.
Semen samples from each sire entered in every 2020/21 and 2021/22 AMSEA program, plus those used in the AI programs of several leading Australian studs, will be assessed post thaw for an array of in vitro quality factors and linked to pregnancy rate. This analysis will go far beyond the current well-known measures of subjective motility, morphology and concentration and apply advanced assessment tools to investigate the contribution of sperm DNA integrity, membrane stability, oxidative status, metabolism rate, smallRNA complement and surface proteome to AI success. From these results, we will apply statistical models to determine the most relevant in vitro predictors of fertility and make updated recommendations for the minimum semen standards required to achieve high fertility. Aside from these sperm characteristics, other ewe and environmental factors which may influence the success of AI will be captured using a novel data capture system (GI Smart; Graham Innovations) at the time of AI, including time of AI relevant to CIDR removal, dose of PMSG used, internal fat score and the uterine tone of ewes as well as weather conditions at AI. These data will be collected at AMSEA sites and at the AI programs of several leading studs around Australia during the 2021/22 season.
Combined, the identification of all factors which may influence success of AI will reduce the variability of AI experienced by growers around Australia and restore the confidence of this essential reproductive technology across the industry.
This project is a partnership with AMSEA and the NSW Stud Merino Breeders' Association, funded in part by the NSW Stud Merino Breeders' Association Trust.